The first private MDx laboratory in Hong Kong
Occupies the largest market share in the local biotech industry
Provides one-stop prenatal DNA testing services
Analyzed > 500,000 clinical samples in our own laboratory
Obtained ISO 13485 certification for testing service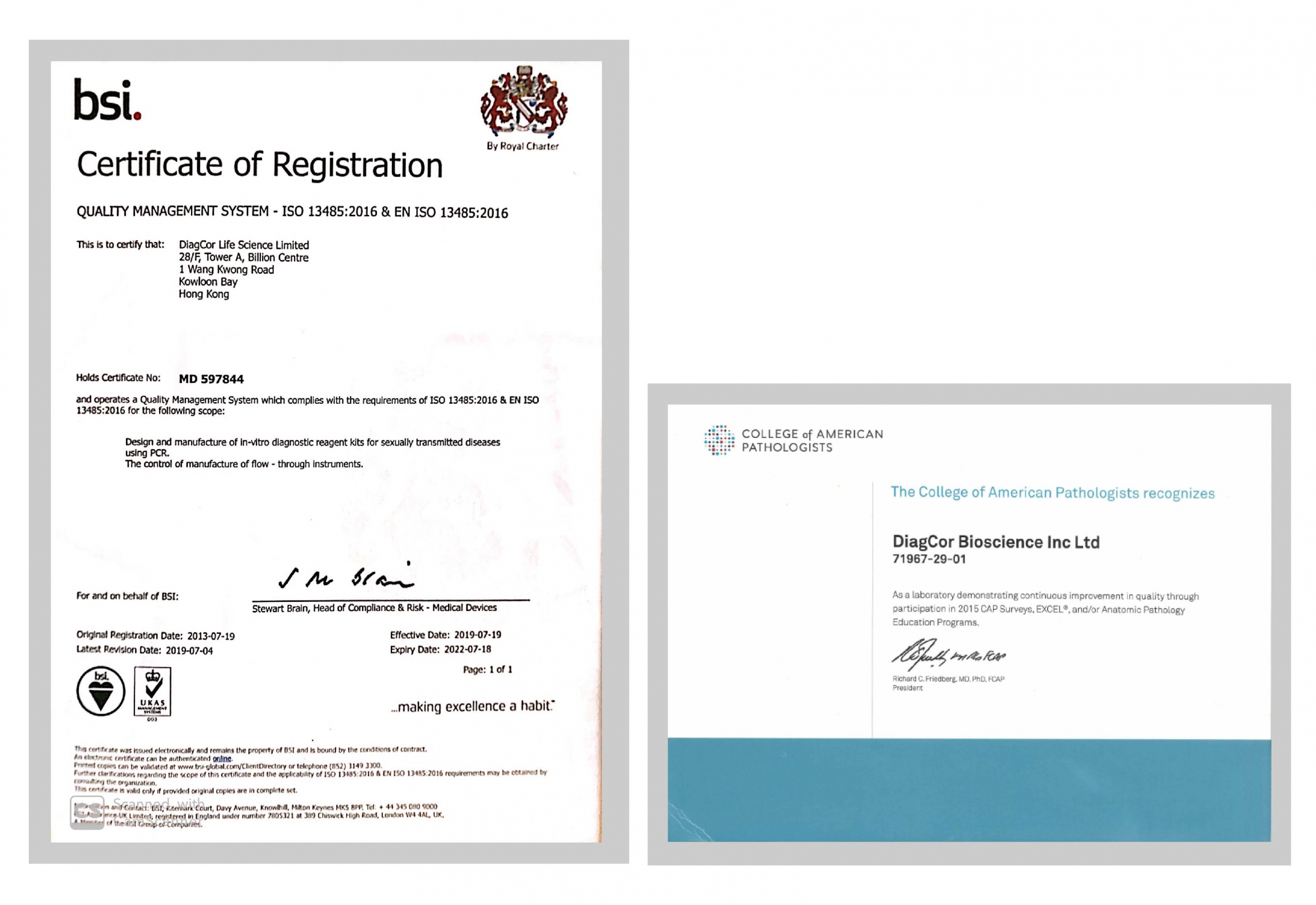 Regulated by Hong Kong Medical Laboratory Technologists Board, DiagCor Bioscience Incorporation Limited emphasizes on high level of quality and safety measurements. We are participant of the international proficiency testing program – External Quality Assurance (EQA)/Proficiency Testing (PT) that is conducted by the College of American Pathologists (CAP). Our self-developed test is certified by ISO 13485.
DiagCor is led, guided and operated by a respected group of biotech scientists with extraordinary depth and breadth of experiences. With more than 10 years of solid research and development, DiagCor Laboratory has processed and analyzed over 500,000 samples for our customers. Our services cover non-invasive prenatal testing (NIPT), parentage testing, maternal blood Y-DNA detection (MBY), Y chromosome exclusion test (parent-child relationship test, MBE) and fragile X carrier screening (genetic disease detection, MFX). We aim to use our professional knowledge to provide the best services and solutions to our valued customers.
Quality Policy Statements
We commit to provide professional and quality testing services, in terms of accurate and on-time test results, to our customers.
We commit to maintain the independence, impartiality and integrity of our services.
We commit to meet statutory, regulatory and certification / accreditation requirements and to satisfy the need of our customers.
We commit to ensure all personnel concerned with test activities being familiar with the quality documentation and implement the policies and procedures at all times.
We commit to comply with ISO 13485 on our test services.
We commit to continually review and improve the effectiveness of the management system.
We commit to provide a safe working environment to staff.